---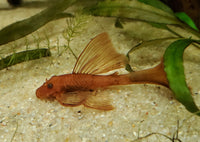 Beautiful and healthy. She is a great addition to our tank. We are repeat customers and love getting all our fish and supplies from Reef Life!
Love ❤ it
Loving our little bristle nose❤ thank you
Love this little guy
We are in love with are little tank cleaner. He is super healthy from the day we picked him up from Reef Life. He has cleaned the entire 65 gallon tank in just 3 days. The driftwood and dragon rock look great now. He is a beautiful fish who is a work horse...Thanks Reef Life!
Realy good looking fish
I bought my fish about a week ago. Realy healthy fish. There aquariums are crystal clear. My favorite fish store. They have saltwater and freshwater fish
Perfect as always!
I asked for these to be special ordered and they arrived within days, healthy and happy! We love our friends at Reef Life and they are our "go to" for all things aquatics. My wife and I share 10 or more aquariums from nano reefs to 150+ gallon reef and planted fresh water aquariums. We've never had a bad experience there and have never had a problem with fish/coral health, not even once.