---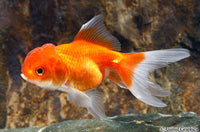 Great Goldfish
I noticed the fish had good color and shape. Often I find goldfish where the shape (body and fins) good but the colors are often too plan (dull gold). Not the case here. This was is great.
Very healthy, Lots of personality
I got 5 Oranda goldfish from this store and all of them are happy and full of personality. They're also very sweet fish and are schooling well together and with others. I like how they were quarantine their fish before they're are made available. Very happy with my purchases.
Red Oranda
I picked up this little guy when I was only looking at cories and plants. He's got a great personality and he's doing great! Can't wait to get back up there!